Peru Food Diary
As you know I just came back last week from my favorite place on Earth, Peru. And one of the crazy experiences I had on this trip was the food. The whole food situation was such a rollercoaster for me. When we first landed in Peru we were in Lima, and I decided that night to document all the food I could because it's my favorite thing in the world, and I'd be eating a lot of it. That's what I thought at least.
The first few days of the trip we toured Ollantaytambo, Machu Picchu, and a whole bunch of other places. I ate so much. Sunday, February 18th is when we met our host families and started our daily routine of going to school and community service. Eating was fine for a couple of days, but by the 20th (my birthday) I could not push food down if my life depended on it, and it kind of did. It was because I had a very bad case of altitude sickness, and it went on for a couple more days. Fortunately, I was still able to drink, so I would just get very high calorie drinks like milkshakes and fruit juice blended with ice cream. When I did get my appetite back, it was not a huge appetite, but at least one that would let me survive. By the end of the trip I dropped 7 lbs, but not in a healthy way at all. Now that I am home I am trying to eat as much as I can to gain the weight back. So here we go, *almost* all the food I ate in Peru.
*disclaimer: all photos are straight from the SD card and unedited*
Started off the trip with gross airplane food!! We were absolutely starving so we had to stomach down a not-so-yummy turkey and cheese sandwich on Copa Airlines
Landed in Lima and everyone was starving so this bread went fast. I'm not sure what kind of bread this was but it was delicious. The rolls were sweet and soft, while the breadsticks were peppery and savory. The butter was a bit weird because it was pink as you can see.
Restaurant: Costa del Sol Wyndham Hotel Restaurant
This was my meal. Not sure what I ordered exactly, but it was a savory cream pasta with quinoa chicken meatballs. Very delicious.
Restaurant: Costa del Sol Wyndham Restaurant
Okay I didn't really eat these the next morning, but look how pretty they were😍
Restaurant: Costa del Sol Wyndham Restaurant
I had the breakfast of champions of mini pancakes, scrambled eggs, watermelon, and those yummy rolls from the night before.
Restaurant: Costa del Sol Wyndham Restaurant
Okay I was starving waiting for our plane to Cusco later that morning, so I went to a little pagoda that had snacks and empanadas. I LOVE empanadas. It doesn't even need to be a high quality empanada, just needs to taste like an empanada for me to like it.
Restaurant: little pagoda in the airport????
My friend Nate was hungry for sweets, so he got these cute little wafer cookie things called Cua Cua, and they were verrrryyy good.
When we landed in Cusco we went to go have lunch before we journeyed to Ollantaytambo. This is where I had one of the most typical dishes in Peru, "Sopa de Quinoa" (Quinoa Soup). In a light chicken broth with cooked vegetables, there is lots of quinoa and sometimes chicken at the bottom of the bowl. Personally, I was not that big of a fan because I do not really like bland types of food. I really like savory things. Many other people enjoyed this dish though.
*I do not remember the restaurant name*
At the same restaurant I had another very common dish in Peru, and it is called "Lomo Saltado." It is a beef stir-fry with onions and other vegetables. It is usually served with rice and potatoes, but in this case it was served with both. I enjoyed this meal but after I had it a couple of times I got a little sick of it.
*I do not remember the restaurant name"
When we got to Ollantaytambo we had dinner at a cute little pizzeria and they served us these cute little garlic breads. They were amazing, but heavy on the oregano.
*There was no name to the restaurant, it just said "Pizzeria"*
I usually do not eat dairy, but I did on the trip, except for this pizza. I had already had a lot of dairy that day, and it felt really heavy on my stomach, so I didn't get cheese on my pizza. That was a bad choice because it was disgusting. It would have been better with cheese, but they went hard on the oregano.
*Same restaurant as before*
The next morning we had breakfast in the hotel, and I got some eggs and toast. In almost every hotel breakfast, scrambled eggs were the only food that had some protein in it.
Restaurant: Tunupa Lodge
After walking for a very very long time through a salt mine, down a huge mountain, and through a deserted neighborhood, we were all extremely hungry. Good thing the restaurant we had lunch at was a huge fancy buffet. This restaurant was by far my favorite one we went to during the trip. It looked like a huge mansion, and in the back there was a huge garden with alpacas. I had a spaghetti dish, some sushi (I had never tried it before), vegetable wontons, and alpaca. Yes, alpaca. It tasted just like beef brisket, but after I ate it I felt so guilty so I stopped. It was delicious though.
Restaurant: Restaurant Tunupa (Urubamba)
That afternoon we took the PeruRail to Aguas Calientes!! (Where Machu Picchu is) The food on the train was surprisingly good. I had a croissant filled with jam and mango juice.
Restaurant: PeruRail Train
Along with the mango juice I tried my first Coca Tea. This tea is super famous because it really helps with altitude sickness, and is illegal in the United States. The Coca leaves, which is where the tea comes from, are illegal in the U.S because these leaves can also be used to make cocaine. In my opinion, it just tasted like warm water. I liked Muña Tea better.
Restaurant: PeruRail train
That night in Aguas Calientes, we went to a restaurant where I got "Sautéed Spaghetti." This restaurant was hilarious because they spelt so many things wrong. Like "chickem" instead of "chicken", and "begetables" instead of "vegetables." It was a running joke throughout the whole trip.
*I do not remember the restaurant name*
What did I tell you? Oh yea, eggs and toast. This round bread was probably the most common bread in Peru, but it is so good.
Restaurant: Wiracocha Inn Restaurant
Later that day, after hiking and walking around Machu Picchu, I desperately needed something in my stomach. How convenient to have a little ice cream stand right next to the exit of the ruins😉 I got coffee ice cream while my friend got chocolate.
The whole group was still starving, so my goodness we were happy when lunch was a buffet. I had some pico de gallo, pasta with marinara, and a weird cheese casserole type of dish. Everything was pretty good, except the weird cheese thing.
Restaurant: Toto's House
Look how sad this looks. I was so stuffed, but I really wanted something sweet, so I got a tiny sliver of cheesecake. Wow it was good. It was lighter than cheesecakes in the U.S, and it was more crumbly. It was so good that I went to get more after this.
Restaurant: Toto's House
I also got a croissant🤩 (Featuring my friend Ashley who went up to get it for me because I was too lazy lol)
Restaurant: Toto's House
Later that afternoon we went on the train again to go back to Ollantaytambo. This time they served up cinnamon buns and a typical snack, Inca Corn. The cinnamon bun was very good, but I wanted to save the Inca Corn for when I got back to the U.S. I still haven't tried it.
Restaurant: PeruRail Train
That night we went back to the pizzeria with no name, but this time I got Lomo Saltado again. I was getting a bit sick of it.
Guess what breakfast was! Eggs and toast, but I switched it up by adding some watermelon and a banana. Wow I was going crazy.
Restaurant: Tunupa Lodge Restaurant
So we went to the nameless pizzeria for the third and final time, but we could get anything we wanted this time. Everyone had the choice to get some ceviche too. This ceviche was sooo good. Very lemony and light. I finished mine and some peoples leftovers oops.
For an entree I got pesto pasta. It was delicious and probably the only meal I actually finished in Peru, which wasn't a good thing.
The dessert was interesting, but very yummy. It was a cold peeled peach inside sugar water. You ate it with a spoon. I actually liked it, but many people did not.
Okay, so that last meal was probably the last full meal I had until the next week. It was harder to remember to photograph everything that I ate when I didn't eat that much. I would have a "Pan de Chocolate" (similar to chocolate croissant) here and there, and sometimes an empanada from my favorite café after community service. I would have toast with jam pretty much every morning with the host family. In this picture I was at a Starbucks in the Plaza de Armas with one of my teachers and her husband after they took me to a doctor for my throat
The next Saturday was another day of touring, and for lunch we got to try... Cuy (coo-ey) aka Guinea Pig. It is very common in Peru, and there are cuyerillas everywhere. To me, it is so gross. They just fry them whole and serve them on a platter. One time, I saw a woman who just had one on a stick. I think it is disgusting, but I had to try it. My friends loved it, and thought it was hilarious. They even attempted eating the head, but it didn't work.
*I don't remember the restaurant's name"
The next day was touring again, and for lunch there was another buffet!! I had some more pesto pasta, guacamole and chips, some fried fish, and chicken nuggets. We had never been more happy to see chicken nuggets in our entire life. I was still having trouble eating, so I didn't finish some of it which was a really bad habit.
*I don't remember the restaurant's name*
That night I dragged all my friends out to go eat chifa with me. Chifa is Peruvian Chinese food, and since Chinese food is my comfort food, I really needed some. It was so interesting because it was Chinese food, but definitely different from American Chinese food. It was super delicious though.
Restaurant: Kion
At the same restaurant I got lemonade. Every chance I had I would get lemonade. Peruvian lemonade was sooo good I could not get enough of it. It was more sour than lemonade in the U.S, and that's what I liked about it.
Restaurant: Kion
Here is just a sneak peak of what my morning breakfast would usually look like with my host family, but instead of hot chocolate there would be tea in that mug. Our host mom was super sweet that morning and decided to make us some hot chocolate.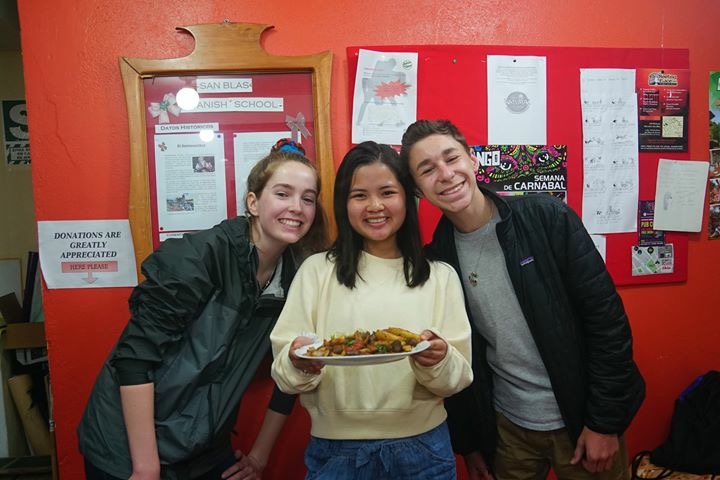 So again I couldn't eat that much lol, but on that Wednesday we had a cooking lesson where we got to make our own Lomo Saltado. The only problem was that we made it with weird soy fake meat. It was kinda gross, but it was fun to make. I made it with my friends Caroline and Nate. This is such a cheesy photo.
This was our last day in Cusco and it was so sad. Our last time in one of our favorite bakeries, Pantastico. I would always get Pan de Chocolate here.
The next day in Lima I forgot to photograph my meals, but I had some delicious wings and a burger for lunch. Wow it was so good, and still kept the Peruvian flavors. We also got Hagen-Dazs which was amazing of course. They should have more of those in Boston. For our final meal in Peru we had a squash soup and chicken. Im so sad just thinking about it. This trip was amazing, and my food experience was too.
Restaurant: Pantastico